Phone: 512-589-8764
Website: Link
Certification: MA Counseling Psychology

Location: Central Austin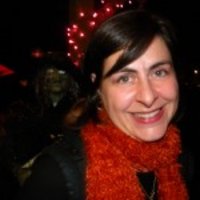 I have been working as a birth doula in Austin for about 13 years.
My bachelors degree is in Transpersonal Psychology from Naropa University in Boulder, CO. gave me a foundation in holistic health that excited and inspired me.
The first birth I attended in 1997 was that of a friend. While I was on a trajectory towards a helping profession, after that event , I knew that it would be related to birth. I was floored with the power of a woman in labor. I continue to be.
I am also a registered massage therapist and studying Biodynamic Craniosacral Bodywork. My practice as a body worker is, for the time being, limited to working with women in their childbearing year.
Lanell and I have inspired, encouraged, and accompanied each other in our birth work and friendship for over 10 years. Conscious Birthing Austin came about 6 or 7 years ago when, as doulas, were inspired to create our own curriculum for a childbirth preparation series. We both went on to initiate training from Birthing From Within. I completed Level I and continue to develop myself as a childbirth educator.