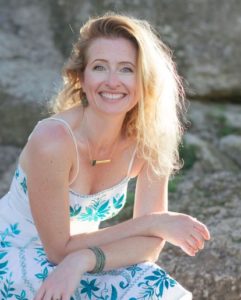 My first daughter Aurora was born (with Jean Stokes in attendance) at the old North location of Austin Area Birthing Center. Though I worked in the home birth community for a number of years, I have always had a soft heart for home birthing, because that is how I became a mother. When my marriage ended I needed stability and the ability to have on and off call time so that I could arrange care for my children. I have worked in a home birthing environment where I have help other women become mothers while also remaining devoted to my own children.
Prior to working at Austin Area Birthing Center with Michele Fitzgerald's Home Birth Services for three years. I did everything from teaching birth classes to washing the sheets to catching babies. Michelle caught my second baby at home.
Prior to becoming a midwife, I was a choreographer and dance instructor. I ran a dance program at Greenwich Academy, an all-girls school in Greenwich, CT. I worked with France Hunter, who danced with Twyla Tharp, was in West Side Story on Broadway, and had a bit part in the movie Hair. She introduced me to the book The Red Tent, which has a biblical midwife in a central role. That book changed my life.
Phone: 512-629-0576

Website: Home Birth Honey
Certification: CPM, LM
Location: Austin and the surrounding area
I am passionate about the creative potential of the body. It is what excited me in the dance world and what continues to excite me today. I want women to know what an endless wellspring of power and creative force resides within them.
I have a knack for bringing peace to chaos and for helping women find their strength when they are on the verge of throwing in the towel. Plus I can show you how to get into a killer squat that will get that baby out! I'm especially good at helping women be realistic about what it is they are approaching when becoming mothers. Being a mother is the hardest job on earth, I love hot yoga, strong dark coffee, sushi, Texas sunsets, my daughters'' smiles, my Great Pyrenees puppy, and a cool lake on a hot day I love to spend time at our local lake and playing with my daughters and dogs. When I can I travel to British Columbia and Hawaii.
I was born on Cape Cod, not far from where the pilgrims landed and moved back to TX when I was two. I spent my early years in Houston, went to high school overseas in The Netherlands, got my BA in Literature and Dance at New College in Florida (where I hope to someday found a midwifery program!), and got my MFA in dance at Sarah Lawrence in New York. I moved back to Texas when pregnant with my first daughter because I wanted to be close to my family and didn't want my babies to be cold in the winter.
I am a single mother of two girls with a full-time job. I am really lucky to make it through every day. But if I could I would join Doctors without Borders and help promote women's health in remote parts of the world where access to care is limited.
I am also a big believer in Heifer International. The functional relationships between animals and people help sustain communities and families and help strike down poverty and hunger.
I want to be remembered as a mother and a midwife. I have caught many babies who reside in my immediate community out Hamilton Pool road. I would be honored to be remembered as a community midwife.