MIDWIFE MEANS "WITH WOMAN". Plans for the birth are discussed throughout pregnancy. A midwife is your partner as you plan and create YOUR birth experience, both during the pregnancy and throughout labor and birth. Most women find it very reassuring that the same midwife that provides the prenatal care will, 99% of the time, be the midwife who will be at the birth.
We consider birth an incredible physical and spiritual event. Birth has the ability to shape our culture and its significance must be taken seriously. We consider it a privilege to be part of this special event. With open communication our goal is to help you achieve the birth you want.
The following people are midwives in the Austin area.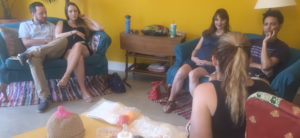 Phone: 512.791.8749 Website: Link Certification: ALACE and Maternity Wise, training and experience as a breastfeeding support counselor. Location: Austin I
Read More »