Phone: (512)779-5080
Website: Ad Website Link
Certification:
Location: Austin, including Buda, Kyle and San Marcos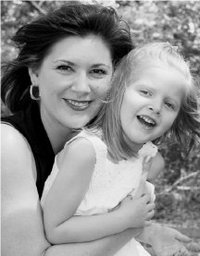 A doula serves thoughout the birth experience to provide continuous support, encouragement, and comfort to the mother and father by focusing on non-medicinal ways to alleviate pain and reduce the length of labor. As your doula, my goal is help you have the best birth experience possible by meeting your emotional needs and giving you the support you need before, during, and after labor.
I've always been drawn to pregnancy and birth; in awe and in love with the whole process. This interest became even greater when I had my own children. And when my second was born I knew I wanted to become a doula. I realized that with my interest in birth combined with my love to create beautiful pieces of art I have a wide array of services to offer families. And this is how Blessed Birth was born.
Whether it's attending a birth or drawing a portrait I am honoring the blessing of life and family. It's a great honor to be invited into the birthroom to support a mom and dad, and it's just as much of an honor to be invited in their home to paint a mural for their nursery. These are all things I love to do, and I hope that they bring your family much joy
Why I became a Doula
I am the mother of two amazing children and had two very different birth experiences. Going through my second pregnancy and birth with the support of a doula inspired me to give that same support after my daughter was born.
I chose the name Blessed Birth because as a Christian I believe every birth and every child is a blessing. While our culture often focuses on the pain of labor, giving birth is meant to be a joyous event. Bringing forth new life should bring happiness and a sense of fulfillment and strength to the mom that will sustain her throughout her journey as a parent.The birth should also bring strength and a deeper love to the couple. Parents are meant to be loved and nourished during this special time.
Giving birth is a transformative moment for every parent. Not only is it a very physical event, but it is an emotional and spiritual one as well. Families choose a midwife or a doctor to help ensure the physical safety of the baby and the mother. And a doula is a good addition to the birth team to help with the emotional side of pregnancy and birth.
I am a certified birth doula through DONA International. And I am a member of the Central Texas Doula Association.
Birth Doula Services
Initial consultation (free of charge) to get to know each other and see if I'd be a good doula for you

Two prenatal visits to assess your needs and desires for the birth, define and understand our expectations of one another, and provide you with useful tools for labor and birth.

Phone and email support throughout your pregnancy and early postpartum period

Help creating a birth plan to help you clarify your preferences for birth and explain the options available to you.

Access to my lending library of childbirth materials to support your learning in preparing for the birth, breastfeeding and newborn care.

Continuous one on one support throughout the entire birth

Accompany through a c-section if needed

Birth photos

Assistance in unexpected outcomes in providing support, guidance, and information

Postpartum visit to celebrate the birth of your baby and go over any questions you have about the early postpartum stage
Fee: Birth Doula services are on a sliding scale between $600-800. There is a deposit of $300, and the rest is payed at your postpartum visit. I am also happy to barter or offer payment plans if necessary.
PostPartum Services
My postpartum services are done on an hourly basis for up to 4-6 weeks after the birth of your baby. My goal is to help you grow as a parent and adapt to your new roles as mom and dad. Things I can help you with are
Help taking care of you and your baby so you can rest

Breastfeeding support and education

Newborn care

Light household duties such as laundry and meal prep
 Fee: $20/hr
Overnight Care
Overnight care is a great way for you to get more rest in that first month after having a baby. I offer overnight care in 8 hour shifts (usually from 10pm to 6am).  In addition to helping you get more rest I will share ways you and your baby can have better nights sleep.
If you are breastfeeding I will bring the baby to you. And when you are done feeding your baby I will burp, change, and soothe him back to sleep. If your baby is bottle-fed then I will also feed him. I will sleep when your baby is asleep. And when your baby is awake I will lovingly take care of her and guide her to the understanding that nighttime is for sleeping.
 Fee: $25/hr
First Night Home
Whether you have a hospital birth or a home birth your first night by yourself with a newborn can seem a little daunting. As a postpartum doula I can assist you with this transition. I can help you get everything set up right so that you're off to a good start. Maybe you have questions as to where baby will sleep, how often should I expect him to awake, what will nighttime feeding look like at home. These are all things I can help you with.
Fee: $25/hr
Belly Casts
Having a belly cast made is a fun way to celebrate your pregnancy, and it is a memorable keepsake that you will treasure forever. They are beautiful left white, you can choose to have it painted, or you can decorate it yourself or with friends at a baby shower. Belly casts are best done between 34 and 36 weeks. Contact me for more information or to set up an appointment.
Fee: $75-$450 depending on the cast
Murals, Portraits, and Other Artwork
These are one of a kind pieces of artwork that are sure to bring a lot of joy to your family and home. You can see examples of these in my store. Prices vary widely based on size and scope. Please contact me for a quote.
I do not give quotes for murals over the phone. After we have discussed what you are wanting in some detail, we will make arrangements for me to see the site where the mural is to be painted, only then can I give you an accurate quote.