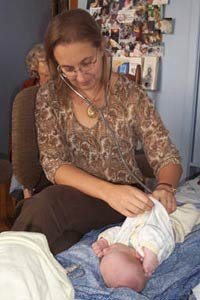 I have been serving the birthing women in the Austin and surrounding communities since 1996 both as a midwife and a doula. Each woman, each family, each birth and each baby teaches me more and more about the strength, courage, challenges, vulnerability and beauty of being human. Laboring breaks down the walls and defenses that we have all built up over our lifetime so that giving birth allows a woman to get in touch with her true self. It is a beautiful gift to see time and time again.
Phone: (512) 450-0908
Website:
Certification: Certified Professional Midwife
Location: Austin
I have given birth to 2 children, one at home and one in the hospital. My hospital birth led me to the path of midwifery and my homebirth led me to be a midwife. With each of my births, I learned some very important and fundamental things that birthing women need. Those needs are respect, privacy and faith. Without those basic needs given to a birthing mom, she is often left with feelings of doubt. However, when a woman is simply given respect, privacy and faith, she is left feeling glorious, fulfilled and peaceful.
Why are respect, privacy and faith so important? When a woman is truly respected, she can walk the birth path with her head held high, a natural leader in the work of birthing. When a woman is given privacy, she will find her true self and the surrender in birth with less effort. And when a woman is shown faith, faith that her body works, faith that she knows what position to be in, faith that she knows when things are wrong and when things are right, faith that she knows her pace is the right one, faith that she knows how to care for and feed her baby, she is given a life gift. Faith is the ultimate unconditional trust and that is empowering. When women are given these three things, they are emotional ready to face the demands and challenges of motherhood.
Peaceful birthing to you all…