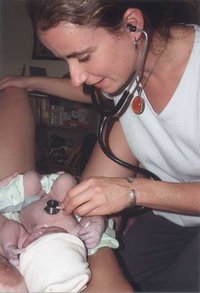 I am a Certified Professional Midwife, legally documented in the state of Texas. I am inspired by the sacred and creative process of pregnancy and birth and have been attending women in this capacity since 1997. I have helped many families usher in their precious new babies, and look forward also to being blessed with my own one day.
Services
We offer complete prenatal, birth, and postpartum care including nutritional couseling and breastfeeding support. We also provide well woman care including annual exams.
Phone: (512) 444-0617
Website: Link
Certification: Certified Professional Midwife
Location: Austin
Well Woman Care
We provide standard gynecological exams in a comfortable environment. Pap smears, STD screening, blood work, and family planning consultation are available. Our one hour visit fee is on a sliding scale from $30-$50 plus lab charges.
Prenatal Care
An essential part of midwifery care is the providing of information so that women can make informed choices regarding their pregnancy, delivery, and care of their newborn. We are watchful guardians of this natural process, working to promote a healthy pregnancy and prevent complications. If necessary, physician consultation is available. We will see you once a month through the twenty-eighth week, then once every two weeks through the thirty-sixth week, and weekly until the birth. We schedule an hour for each prenatal visit, which allows ample time for physical assessment, as well as support for the emotional and spiritual aspects of pregnancy.
Birth
Since birth is unique to each woman, we will be in close communication as labor approaches. We offer emotional support throughout labor and delivery, as well as ongoing clinical assessment of the mother and baby. We follow the direction of the birthing mother, trusting her instincts. We encourage family involvement in "catching" of the baby and honor the precious bonding time after birth.
Postpartum Care
We stay at least two hours after the birth, assessing mom and baby to ensure that all is well. We return three times in the first week to check mom and baby, and provide follow-up postpartum care through six weeks after the birth.
Payment Information
At Full Circle, we are committed to providing affordable health care to our community. In order to serve a diverse population, we offer a sliding scale fee and payment plan option for our services.
Complete prenatal, birth, and postpartum care, including childbirth classes range from $1800-$3000. This is significantly less than the cost of a standard hospital delivery. You will be respobsible for choosing a fee that works with for you, creating your own payment plan and following through as agreed. It will be part of the Contract for Services signed between midwife and client, and we expect payment in full by the time of delivery. Trade and barter also negotiable.
Some insurance companies pay for midwifery care. We are happy to bill insurance and coordinate appropriate payment and reimbursement.