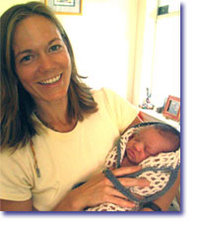 Faith Beltz (LM, CPM) is a certified, professional midwife providing natural and holistic home birth and birthing center services in Austin, Tx and the surrounding areas. Faith has participated in hundreds of home births and is active in the local midwifery associations.
Phone: 512-698-4132
Website: (non Member)
Certification: LM, Certified Professional Midwife
Location: Has recently moved – we wish her all the best
Congratulations on your decision to explore the many options available to you in pregnancy and birth. New life is a miracle, and I believe the experiences during this transformative time have the potential to profoundly affect everyone involved.
As a mother who has experienced both hospital and home birth, I found the information and care I received through midwives gave me a great sense of empowerment as well as a sweet gentle welcome for my daughter.
This changed my life and led me to becoming a midwife. It is my intention as a midwife to give this gift back to families by assisting them to create a safe and sacred space for their journey to unfold.