Phone: 512-710-9662
Website: add link to website
Certification: CPM, LM
Location: Austin and all central texas areas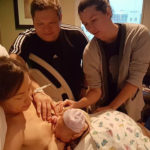 I am a Midwife AND a Doula. I have four sweet babies of my own. Two boys and two girls! I see pregnancy, birth, and the growth of a family as one of the most beautiful things about humanity.
As a Doula, I am privileged to help women and their partners make these experiences as positive and healthy as possible. I have no judgement of how a women chooses to have her baby. Medicated, unmedicated, birth center, hospital or home. Even planned Cesarean birth.
My hope is to dispel fear and anxiety through advocacy, education, and support.
Support as a midwife or a doula

Midwife support: Full prenatal, labor, postpartum and newborn care

Doula Support: 2 birth prep visits, labor support in your birth environment of choice, breastfeeding support and post birth visit

Caring, non judgemental, comprehensive support