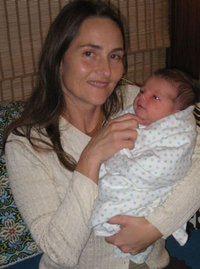 My interest in midwifery began in 1997 with the pregnancy of my first child. I attended a small midwifery school in Eugene, Oregon taught by a traditional midwife and her husband, a naturopath. This early experience was inspirational and helped form my core beliefs about a healthy pregnancy and birth. In addition, this early education provided me an opportunity to study alternative forms of healthcare, herbal medicine and nutrition, which I have incorporated into my practice.
I also started a postpartum doula practice. I feel that the weeks and months following birth are important for parent/infant bonding, breastfeeding success and maternal recovery. I have worked with many families through the years and continue to enjoy assisting new parents with this transition.
For over 10 years, I have been fascinated with and have loved sharing in the birth process from pregnancy to new born.
I feel truly honored to be a part of this transformational life experience.
Phone: 512-529-2544
Website: (non Member)
Certification: Certified Professional Midwife Texas Depart of Health (TDH) Midwifery License North American Registry of Midwives Licensing Exam Graduated from the Association of Texas Midwives Program Adult and Infant Healthcare Provider CPR certified Neonatal Resuscitation Certified Doulas of North America (DONA) Labor Support Doula Training Breastfeeding Educator/Texas Department of Health (TDH) Breastfeeding Educators Training Course-Phase I and II Trained Postpartum Doula
Location: Austin
I am a certified professional licensed midwife, postpartum doula and breastfeeding educator practicing in and around Austin, Texas. I have been involved in the birthing community since 2001.
Through my experience, I have come to a greater appreciation for the uniqueness of each woman's birth experience.  These experiences have also shown that women feel more comfortable and most in control of this process in their own environment, surrounded by a trusted support team that they have chosen. This comfortable, familiar place allows the woman to move through labor as a natural process on her terms.
I believe that all women should have the option to experience the transformation that a natural birth brings about. My philosophy is that women intuitively know how to give birth and my role is to allow that process to naturally unfold while providing an environment where women feel safe and supported.
I would be happy to assist you in this miraculous process.